Type – Tank Capacity –
Mistblowers 400 / 600 / 1000 / 1200 .L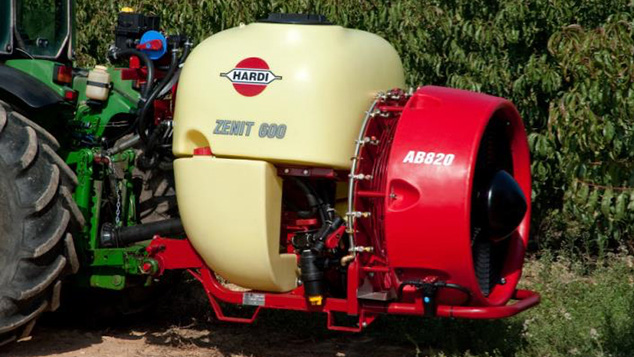 Multi-purpose
HARDI mistblowers lets you spray without compromise – all your different crops. Whatever you grow – from small bushes to large tree plantations.

The Air Kits offer better air distribution, higher airflow, a lower noise level, and less power consumption – all together to provide you with a first-class application.

The Optimus application system is as well offered to horticulture, strawberries, salads etc. OP35 mounted on hydraulic boom CRONOS RAIL, where side ways adjustment of the spout easily is done to set op the sprayers for the exact row distance. CRONOS RAIL is offered from 6 m to 12 m with several configuration options.

The LINER boom family is the lightest in structure as well as the narrowest booms in the HARDI vine boom range. The FIX version is never wider than your tank of the sprayer. Being adjustable for height and angle, these spouts ensure the very best spraying methods whenever your row access is restricted. The START holds the spraying device from the upper part, and allows a wider side adjustment, Optionally, HARDI provides hydraulics with adjustment of 2 x 0.35 m

The HARDI CANNON adapts to any crop type, providing optimum air distribution and maximum air volume. The individual combinations of the six different spouts and the two turbines provide the versatility and power in today's farming.
Benefit from the expertise gained with HARDI's many years of worldwide experience in orchard spraying. Everything from tank design and built to the latest electronic control systems is reflected in our sprayers.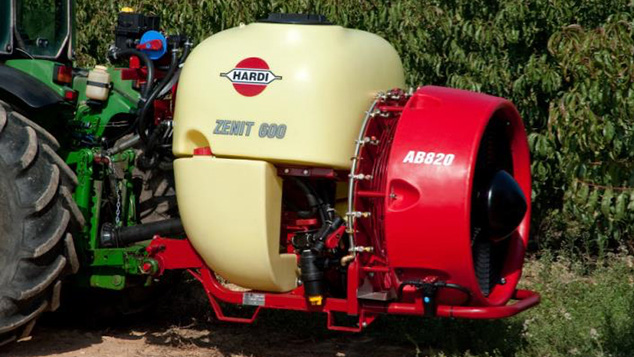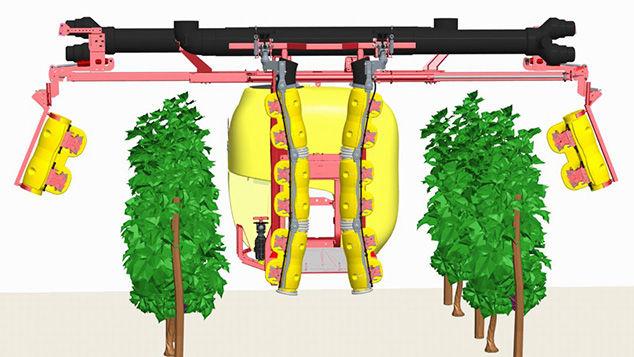 The OP15 as well as OP35 and OP55 are same application technology in the entire OPTIMUS application family. It is based on the same spraying devide in hydro pneumatic as well as in pneumatic applications. The main difference between OP15, OP35 and OP55 is the air supply drop leg that drives the droplet to the targeted plant.
| Boom | EAGLE | PRO |
| --- | --- | --- |
| Tank, l (net) | 2500 | 2500 |
| Pumps, type – l/min | 1303 – 114 or 363 – 194 | 1303 – 114 or 363 – 194 |
| Booms, m | 18, 20, 21 | 12, 15, 16, 18, 20, 21, 24 |
| Hydraulic outlets needed (Y models) | 1 single + 1 double acting** | 1 single + 1 double acting** |
| Hydraulic outlets needed (Z models) | 1 double acting** | 1 double acting** |
| Weight drawbar (empty tank)*, kg | 200 | 160 |
| Weight axle (empty tank)*, kg | 1,540 | 1,820 |
| Weight total (empty tank)*, kg | 1,740 | 1,980 |
| Total length*, m | 5.40 / 5.53*** | 5.40 / 5,53*** |
| Total height*, m | 2.90 (11.2 × 38) | 3.61 (11.2 × 38) |
| Width with boom in transport position*, m | 2.98 | 2.55 |
| Track width, m | 1.50 – 2.00 | 1.50 – 2.00 |
| Length draw to axle, m | 3.95 | 3.95 |
| Ground clearance, m | 0.70 (11.2 × 38) | 0.70 (11.2 × 38) |
| RinseTank, l | 250 | 250 |