Type – Tank Capacity – Boom Width – Boom Types –
Liftmounted 1000 / 1200 / 1500 / 1800 L 12 – 28 m PRO-VP, TWIN STREAM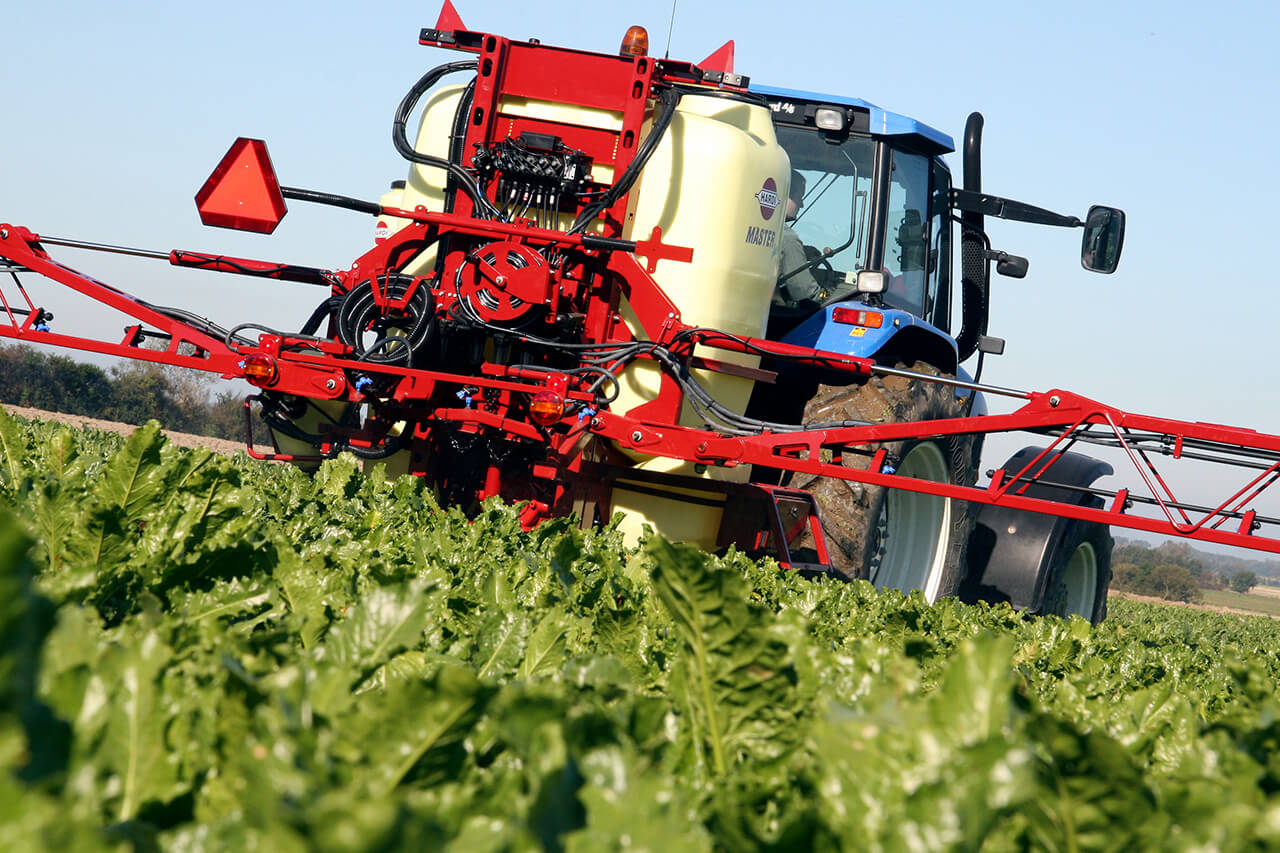 Simple, robust and easy to use
All key functions on the MASTER plus are unsurpassed. The integrated Quick Hitch, the well-arranged MANIFOLD fluid system and the versatile boom range are some of the key features making handling a pleasure and spraying efficient. The large range of high quality features makes the MASTER plus a perfect choice for the demands of the modern farmers

SelfSteer is coupled on the tractor's 3-point hitch and gives a better tracking on headland. SelfSteer is a simple mechanical steering system with low maintenance and no operation or setting required by the operator during the spray job.

The control boxes are compact, ergonomically designed units that allow the operator's right hand to naturally rest around the right side of the box. The logical switch layout puts all frequently used functions at the operator's fingertips.

To meet the requirements of bigger sprayers and to improve lifetime, HARDI offers the 464 pump. A reduction in pressure drop has been avoided by improving the flow in the diaphragm tops.

The inner section is up to 1 m high. The folding cylinder is mounted near the centre section; the outer wing is pulled in and out by a strong wire. This system absorbs forward and backward movements of the outer boom wing.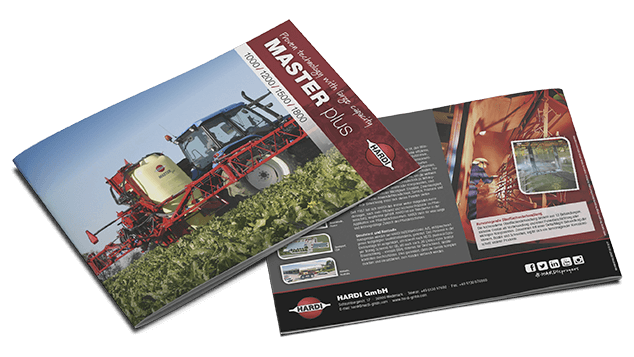 See all the information about the MASTER including full specifications, in-depth information and much more!
The PRO boom is designed and manufactured utilising our knowledge and experience as the world's leading sprayer specialist. The boom offers every conceivable facility to meet different spraying requirements.
The PRO booms 20 to 28 m have integrated AntiYaw damper on the boom wings. The lattice boom structure ensures a strong and rigid boom; the bases for exact and uniform spray distribution. The nozzles, spray lines and hoses are all well protected within the boom design.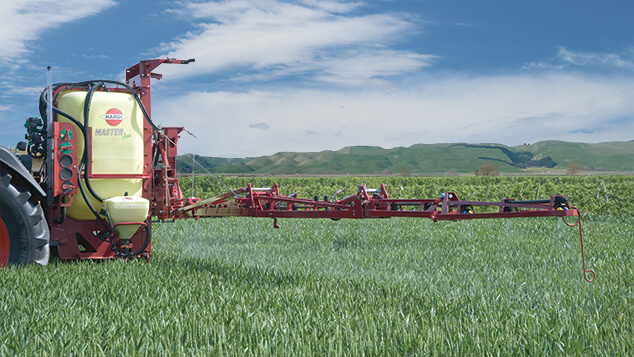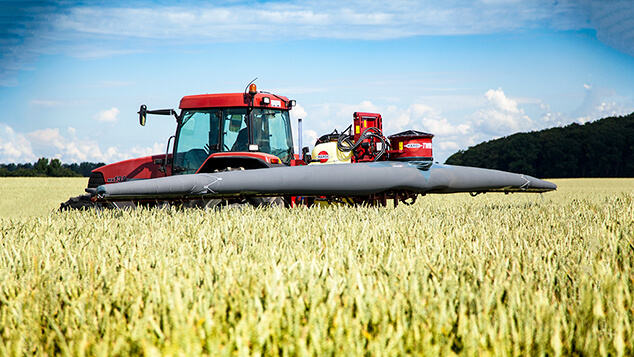 The HARDI TWIN is the most proven spraying system in the world and has shown its reliability. Its unique form of air assistance provides magnificent drift control, the highest fieldwork rate with benefits of notable chemical savings.
The whole range of PRO booms is equipped with an AntiYaw device. The AntiYaw is incorporated into the boom on VP and on the boom centre on VH. The anti yaw secures optimal spray application and minimizes stress on the sprayer.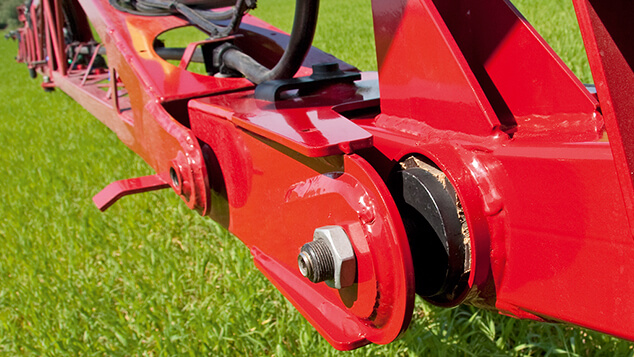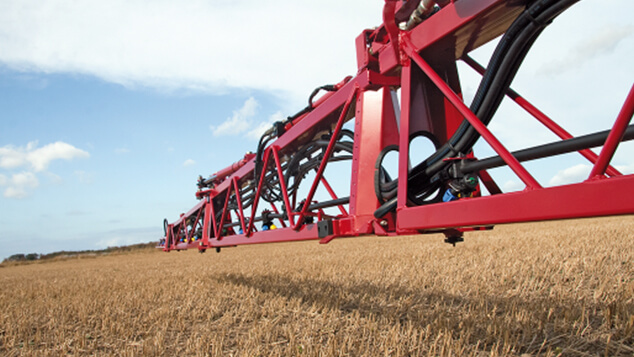 Electro-hydraulic operation
All boom functions on the VPZ booms from 20 to 28 m can be electro-hydraulically operated, from a compact conveniently located control panel. The primary controls, those which are most used in the field, are grouped together for ease of use, such as boom height, independent tilting of either boom section and complete boom slanting. With all other controls conveniently placed to hand, the MASTER plus is easy to operate.
| Tank size (net/gross) | – | 1000 (1100) | 1200 (1320) | 1500 (1600) | 1800 (1895) |
| --- | --- | --- | --- | --- | --- |
| Pump 1303 (114 l/min) | – | · | · | – | – |
| Pump 364 (194 l/min) | – | · | · | · | · |
| Pump 464 (280 l/min) | – | – | – | · | · |
| Weight, kg | – | Weight, kg | Weight, kg | Weight, kg | Weight, kg |
| PRO 12 m – 12.5 m | – | 922 | 955 | 1077 | 1089 |
| PRO 15 m – 16 m | – | 979 | 1012 | 1134 | 1146 |
| PRO 18 m | – | 1037 | 1070 | 1192 | 1204 |
| PRO 20 m | – | 1102 | 1135 | 1257 | 1269 |
| PRO 21 m | – | 1107 | 1140 | 1262 | 1274 |
| PRO 24 m | – | 1127 | 1160 | 1280 | 1292 |
| PRO 27 m | – | – | – | 1388 | 1400 |
| PRO 28 m | – | – | – | 1402 | 1414 |
| TWIN STREAM 12 m | – | 933 | 966 | – | – |
| TWIN STREAM 15 m | – | 1022 | 1055 | – | – |
| Measurements, cm | D | A x B x C | A x B x C | A x B x C | A x B x C |
| PRO 12 m – 12.5 | 225 | 153x253x271 | 166x253x271 | 183x253x271 | 183x253x271 |
| PRO 15 m – 16 m | 225 | 153x253x271 | 166x253x271 | 183x253x271 | 183x253x271 |
| PRO 18 m | 225 | 153x253x296 | 166x253x296 | 183x253x298 | 183x253x298 |
| PRO 20 m | 220 | 174x253x275 | 187x253x275 | 204x253x275 | 204x253x275 |
| PRO 21 m | 220 | 174x253x275 | 187x253x275 | 204x253x275 | 204x253x275 |
| PRO 24 m | 220 | 174x253x325 | 187x253x325 | 204x253x325 | 204x253x325 |
| PRO 27 m | 220 | – | 187x253x275 | 204x253x325 | 204x253x325 |
| PRO 28 m | 220 | – | 187x253x275 | 204x253x325 | 204x253x325 |
| TWIN STREAM 12 m | 260 | 190x260x271 | 203x260x271 | – | – |
| TWIN STREAM 15 m | 260 | 190x260x348 | 203x260x271 | – | – |