Type – Tank Capacity – Boom Width – Boom Types –
Liftmounted 400 / 600 / 800 L 6 – 12 m MB, SB
Proven design and quality
The HARDI NK sprayer is one of the most versatile sprayers ever built. The NK is used by professional plant growers all over the world. It finds its use in traditional farming, horticulture, orchards, vineyards and on grasslands.
The NK is a durable and well proven sprayer that offers far more features and options than you would expect from a sprayer in this class.

SelfSteer is coupled on the tractor's 3-point hitch and gives a better tracking on headland. SelfSteer is a simple mechanical steering system with low maintenance and no operation or setting required by the operator during the spray job.

The control boxes are compact, ergonomically designed units that allow the operator's right hand to naturally rest around the right side of the box. The logical switch layout puts all frequently used functions at the operator's fingertips.

To meet the requirements of bigger sprayers and to improve lifetime, HARDI offers the 464 pump. A reduction in pressure drop has been avoided by improving the flow in the diaphragm tops.

The inner section is up to 1 m high. The folding cylinder is mounted near the centre section; the outer wing is pulled in and out by a strong wire. This system absorbs forward and backward movements of the outer boom wing.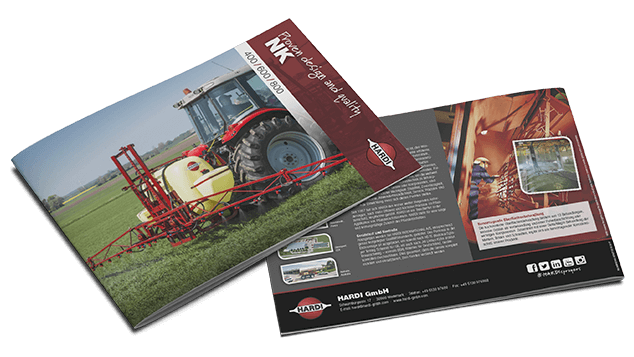 See all the information about the NK including full specifications, in-depth information and much more!
All booms have an adjustable spring loaded break-away to protect the boom in case of accidental encounter with an obstacle in the field.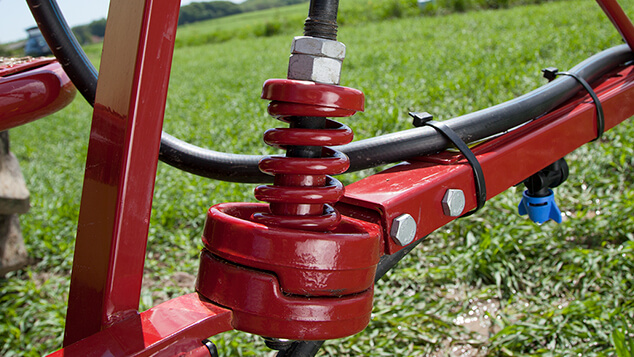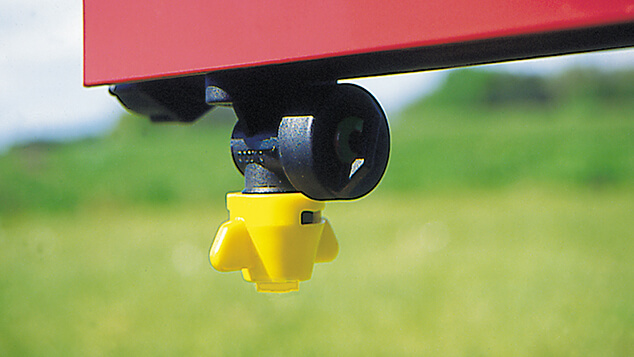 The single SNAP-FIT nozzle holders have a built-in non-drip diaphragm check valve. The non-drip valve ensures no dripping from the nozzles when the main on/off is closed. The SNAP-FIT system furthermore ensures that all nozzles are in the correct position. A large range of high quality HARDI nozzles is available to suit any spray task.
The 6, 8 and 10 m SB booms are directly mounted to the frame. A mechanical and hydraulic boom lift makes the height adjustment easy and safe. If the NK sprayer will be used in crops with are higher than 50 cm a lift must be ordered to fulfill the EU regulations.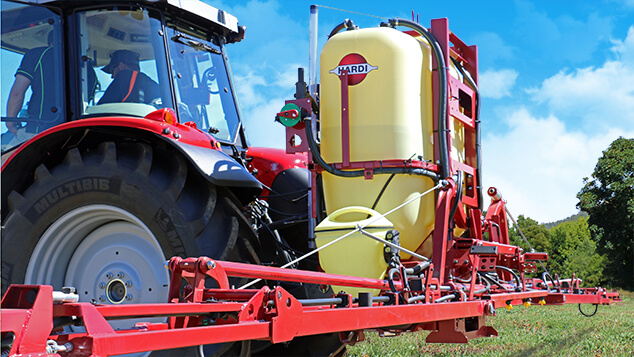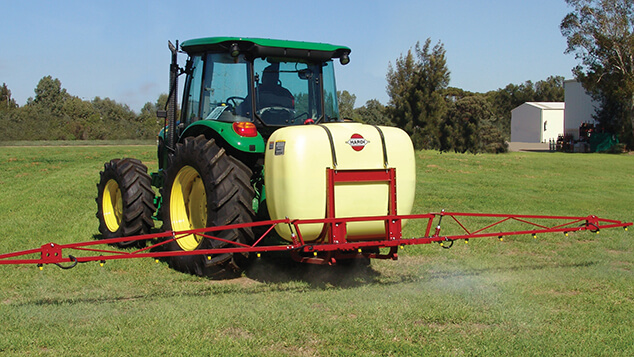 The 12 m MB boom features a trapeze suspension for self-stabilisation and prolonged boom life. On the SB booms they trapeze suspension is an optional.
| Tank size, l | Boom model | Width | Pump model | Pump capacity, l/min | Size, L x W x H | Weight, kg |
| --- | --- | --- | --- | --- | --- | --- |
| 400 | SB | 6 m | 603 / 1203 / 1303 | 42 / 99 / 114 | 140 x 190 x 170 | 150 |
| 400 | SB | 8 m | 603 / 1203 / 1303 | 42 / 99 / 114 | 140 x 190 x 210 | 160 |
| 400 | SB | 10 m | 603 / 1203 / 1303 | 42 / 99 / 114 | 140 x 190 x 210 | 180 |
| 600 | SB | 6 m | 603 / 1203 / 1303 | 42 / 99 / 114 | 140 x 190 x 170 | 170 |
| 600 | SB | 8 m | 603 / 1203 / 1303 | 42 / 99 / 114 | 140 x 190 x 210 | 180 |
| 600 | SB | 10 m | 603 / 1203 / 1303 | 42 / 99 / 114 | 140 x 190 x 210 | 200 |
| 600 | MB | 12 m | 603 / 1203 / 1303 | 42 / 99 / 114 | 140 x 190 x 220 | 240 |
| 800 | SB | 6 m | 1203 / 1303 | 99 / 114 | 140 x 190 x 170 | 200 |
| 800 | SB | 8 m | 1203 / 1303 | 99 / 114 | 140 x 190 x 210 | 210 |
| 800 | SB | 10 m | 1203 / 1303 | 99 / 114 | 140 x 190 x 210 | 230 |
| 800 | MB | 12 m | 1203 / 1303 | 99 / 114 | 150 x 190 x 220 | 270 |