Type – Tank Capacity –
Mistblowers 1500 / 2000 / 3000 L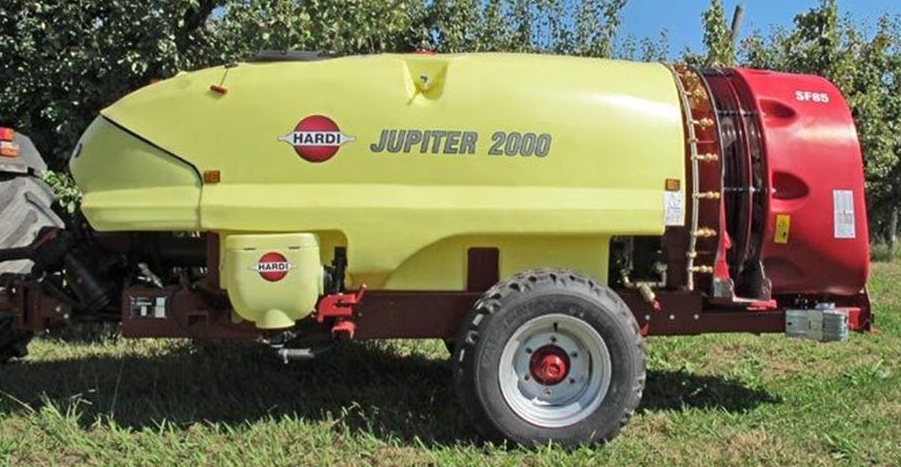 Multi-purpose
HARDI mistblowers lets you spray without compromise – all your different crops. Whatever you grow – from small bushes to large tree plantations.

Air kits & deflectors
The Air Kits offer better air distribution, higher airflow, a lower noise level, and less power consumption – all together to provide you with a first-class application.

The chassis is made of special UPN steel profiles providing robust durability and resistance to vibrations. The design and construction prevent accumulation of dirt and thereby prevent corrosion.

CB/2 & CB/4 control unit The CB has electrical remote control of all functions and is available with 2 or 4 distribution valves. The pressure regulation valve is made of stainless steel for maximum resistance to aggressive products,

Available in tank sizes 1500, 2000 & 3000 l. The tanks are made of high-impact polyethylene and are resistant to plant protection chemical

The diaphragm pumps are designed for the application of plant protection products. The diaphragms separate the liquid from the vital parts of the pump such as its bearings and crankshaft, ensuring reliable and durable operation

Filling, mixing and loading your trailed mistblower exceed every standard with the compact TurboFiller. Undiluted liquid formulations are induced safely and at speed. Dry formulations can be premixed and induced too. No mess, no hold back, no spills, no need for buckets and stirring sticks.
SelfSteer is coupled on the tractor's 3-point hitch and gives a better tracking on headland.
SelfSteer is a simple mechanical steering system with low maintenance and no operation or setting required by the operator during the spray job.
SelfSteer can be equipped with slope correction. Slope correction is manually operated directly from the tractor's hydraulics and helps the SelfSteer to stay in the tramline also in hilly conditions.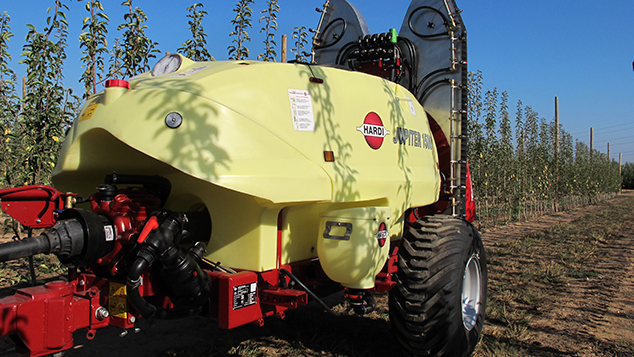 | Tank, litres | 1500 | 2000 | 3000 |
| --- | --- | --- | --- |
| Rinsing tank with 2 nozzles, l | 140 | 190 | 290 |
| Clean water tank, l | 15 | 15 | 15 |
| Agitation | 2 Venturi tank bottom, another front and 2 in the wheel area | 2 Venturi tank bottom, another front and 2 in the wheel area | 2 Venturi tank bottom, another front and 2 in the wheel area |
| Level indicator | Round dry tank level indicator | Round dry tank level indicator | Round dry tank level indicator |
| Diaphragm HARDI pump | 364/7 – 145 l/min | 364/7 – 145 l/min | 364/7 – 145 l/min |
| Hydraulic brakes | No | No | Yes |
| Road homologation | Yes | Yes | Yes |
| Wheels | 340/55-16 12PR | 340/55-16 12PR | 400/60 – 15,5 14PR |
| Track width | 1,25 | 1,25 | 1,4 |
| Overall width | 1,6 | 1,6 | 1,8 |
| Lights | Yes | Yes | Yes |
| Drawbar | Turnable "V" STD | Turnable "V" STD | Turnable HD |
| PTO Shaft | T-300-1 Homokinetic | T-300-1 Homokinetic | T-300-1 Homokinetic |
| Operation unit | CB/2 (2 fluid section with elec. valves with compensated returns) | CB/2 (2 fluid section with elec. valves with compensated returns) | CB/2 (2 fluid section with elec. valves with compensated returns) |
| Section filters | 2 inline filters | 2 inline filters | 2 inline filters |
| Fluid box | FB3610 (Standard) | FB3610 (Standard) | FB3610 (Standard) |
| Gearbox | 2 gears + neutral (3,5 / n / 4,4) | 2 gears + neutral (3,5 / n / 4,4) | 2 gears + neutral (3,5 / n / 4,4) |